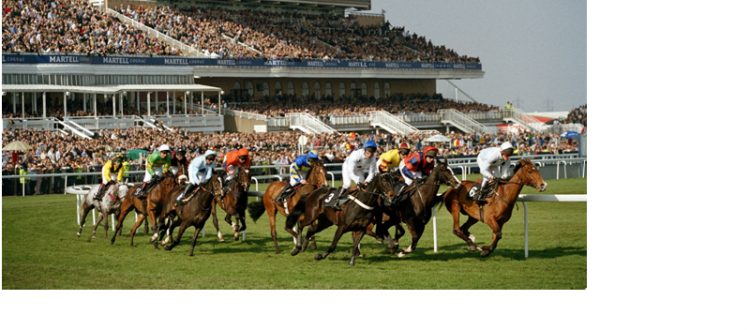 More than 10 million people in England will be sitting in front of their tellies (plural of "telly" which is short for television) tomorrow at 5.15pm to watch a special event. 70,000 will be present at the event itself. In addition an estimated 500 to 600 million people will watch it around the world.
Have you got any idea what I'm talking about?
Well, it's The Grand National – a horse race which takes place annually at a very famous race track called Aintree in Liverpool.
However this is no ordinary horse race! It is very difficult and very dangerous for the horse and rider (the "jockey") since there are 30 fences to jump over which are much larger than usual. You can see people drinking Champagne and wearing incredible hats as they place their bet (scommessa) on a horse.
It therefore seems like a good moment to talk about a horse idiom! It's always a tense moment just before the Grand National starts – the jockeys sometimes seem to have difficulty controlling the horses and bringing them into line. In the past the race official would call out "Hold your horses!" and this phrase has now become an idiom. When we want someone to stop doing something, usually because they are moving ahead with something too quickly, we say the same "Hold your horses!" Here are 2 real examples for me:
When my husband Bob recently announced he was playing football after an injury to his knee, I exclaimed "Hold your horses a moment! Do you think that's a good idea?" I was hoping he would re-think!
I want to paint our living room a different colour and asked Bob which colour he preferred. He responded, "Hold your horses! What's wrong with the living room as it is?!"
When can you use this idiom in your life?
Enjoy your week!