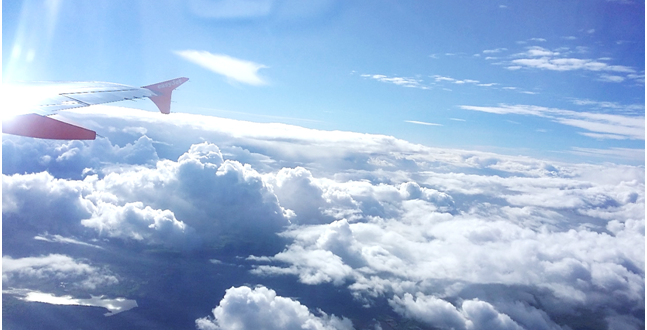 "Every cloud has a silver lining!"
Air travel never ceases to amaze me! I think it is one of the greatest inventions of the 20th century.
The idea that you can leave home, get on a metal tube and fly through the sky for a few hours, then land in another country with a different culture, language, food and customs is mind-blowing ("strabiliante").
Being above the clouds is in my top 10 of favourite places to be and I always take a lot of photos. Here is one of them, taken on a recent flight to Dublin. (My apologies to our Alitalia students since if you look carefully at the wing of the aircraft you can see I flew with Easyjet!)
Looking at my photos from the flight a beautiful idiom came to mind. I also have to thank one of our advanced level students, Stefania, for this as she mentioned it to me a few months ago. If you look carefully at the clouds in the photo they aren't just grey or black, as people might often draw or think of them. The sun is always behind them and the clouds only temporarily block its light: they often look as though they have a silver lining – "unafoderad'argento". When someone is having a bad time we often say this idiom as a message of hope – don't feel too bad as difficult moments can often lead to better times! Here are some true examples!
My son Ben didn't get into medical school the first time he applied, but every cloud has a silver lining! He decide to work, save his money, and then go on an unforgettable trip around South America. The second time he applied the universities were impressed and all of them gave him an offer to study medicine!
Our friend Steve was feeling lonely. He was nearly 40 and although he had had different relationships he had never met the right woman for him. "Don't worry", we said, "Every cloud has a silver lining….come and have a break in Rome!" We didn't know how true this idiom would be … Steve visited all the sights in Rome, but when he went to the Pantheon he saw the best sight of all – the lady of his dreams! Ever the romantic, Steve ran after her and introduced himself. Her name was Jacqueline and she came from Hong Kong. Despite ("malgrado") the distance they met again several times and eventually got married. They now have 2 beautiful children Cecilia and Donny.
When could or can you say "Every cloud has a silver lining…?" It's such a positive, encouraging idiom, share it with us on facebook or send us a message!
The English Tree Team