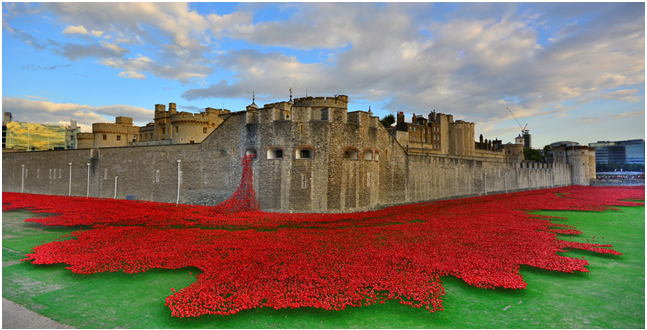 "To Make Someone's Blood Run Cold"
Have you ever been to the Tower of London? Yes? Then you'll know that BLOOD is something that the Tower is famous for. It was blood that inspired this incredible installation of 888,246 ceramic poppies (papaveri), designed to commemorate the centenary of the outbreak, or start, of World War I.
In England we wear a red poppy every year on 11th November to remember the blood of the young men that was spilt on the battlefields (il sangue versato sui campi di battaglia).
At the Tower of London, numerous criminals, traitors to the Crown and of course two of Henry VIII's wives were beheaded….. All this is not normally something we talk about, but today is Halloween and children dress up as skeletons, ghosts and witches and wear masks with blood dripping from their mouths!
As my children grew up, we sometimes went to the Luna Park in EUR and I remember there was a "Haunted House" (una casa infestata dai fantasmi)which they always wanted to go in. I would pretend not to be scared but the house and what was in it would make my blood run cold as skeletons jumped out on us, mechanized figures came out of graves (tombe), and big, hairy spiders would dangle (dondolare) over our heads!
If something makes your blood run cold, it shocks or scares you a lot and you might start to tremble, as if you are cold. There is even a book called "Blood Run Cold" by Aleksandr Voinov about vampires!
However I'm sure all our thoughts today are with the people of Norcia and surrounding areas, where the feel of the earth moving again must have made their blood run cold…
Let's hope that help reaches the people who need it quickly and efficiently and that those who provide that help are themselves kept safe.
The English Tree Team