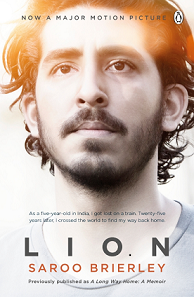 Book Club: "LION: A Long Way Home" by Saroo Brierley
About the Book
"LION: A Long Way Home" is the heart-breaking and inspiring true story of a lost little boy, Saroo, who found his way home as an adult from Australia to India. It is now a major film starring Dev Patel, Nicole Kidman and Rooney Mara.
"As a five-year old in India, I got lost on a train. Twenty-five years later, I crossed the world to find my way back home."
Saroo lived in a poor village in India, in a one-room hut with his mother and three siblings… until the day he boarded a train alone and got lost…for twenty-five years.
The book tells the story about what happened to Saroo in those twenty-five years. How he ended up on the streets of Calcutta and survived. How he then ended up in Tasmania, living the life of an upper-middle-class Aussie. And how, at thirty years old, with some dogged determination, a heap of good luck and the power of Google Earth, he found his way back home.
"Lion" is a triumphant true story of survival against all odds and a shining example of the extraordinary feats we can achieve when hope endures.
(Read more at https://www.penguin.co.uk/books/305147/lion-a-long-way-home/#ZkKkdolZLpsRGED7.99)
Come and join The BOOK CLUB at THE ENGLISH TREE to discuss this book over 4 sessions.
Intermediate to Advanced
WHEN: Second meeting will take place on THURSDAY, 25th May, 2017 AT 18.30 TO 20.00
Subsequent meetings will take place on Thursday, 8th June and Thursday, 29th June (all dates will be confirmed prior to meetings)..
WHERE: The English Tree Piazzale Filippo Il Macedone, 89, 00124 Rome, Italy
COST: 60 Euros for the 4 sessions, payable in full at first session
TO JOIN THE BOOK CLUB:
Buy the book and start reading as soon as you can from Amazon or Feltrinelli International in Via V.E. Orlando 86, 00185 Rome – At Feltrinelli you have a 10% discount if you show them an English Tree card
Confirm your place by clicking on subscribe by email or by sending us an email at info@theenglishtree.it before Friday, May 5, 2017