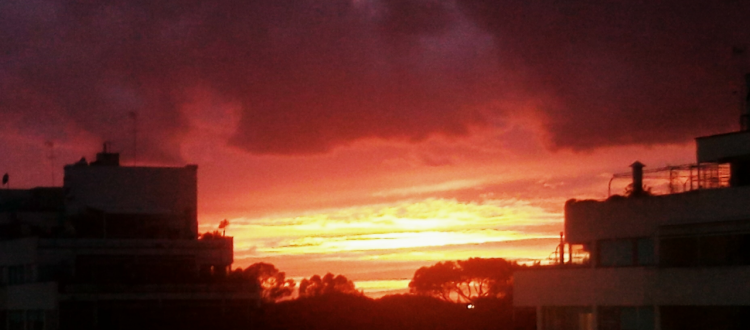 Have you noticed how the days are getting shorter and the nights are getting longer after we turned the clocks back one hour two weeks ago?
Last week as I walked along the corridor outside The English Tree to go home, I saw this beautiful sunset over "Le Terrazze." I had had a busy day and the view of the sky and its colours behind the silhouette of the trees soothed me, ("mi ha rilassata"). The shops were closing and the day seemed to be slowing down as people were finishing work and enjoying an aperitif in "La Locanda," listening to some chill-out music. It was the end of the day.
One of the most commonly-used idioms in English is this one – At the end of the day…. It's such a cliché that a lot of famous people have used it. Here is what they said to help you understand its meaning:
"At the end of the day we must go forward with hope and not backward with fear and division." (Jesse Jackson, American civil rights' activist)
"At the end of the day, life's about realising one's human potential. I don't know if I've realized mine, but I've certainly gone a long way towards realizing some goals and some dreams." (Linton Kwesi Johnson, Jamaican poet)
"There are some things that you can fulfil with money, but at the end of the day these are not the things that make you happy. It is the small things that make life good." (Sebastian Vettel, German Formula 1 racing driver)
"Rome is a city where in every corner you have a reminder of the sacred world. That's why I have sacred music, minimalist sacred music, which is also music I like, because at the end of the day, that's what I want to do." (Paolo Sorrentino, Italian film director)
"At the end of the day, love and compassion will win." (Terry Waite, English author and humanitarian).
Did you guess the meaning – it simply means …. Ultimately, ("in fin dei conti").
Send your sentences with this week's idiom to us on fb or send us an email atinfo@theenglishtree.it
At the end of the day, all that is left for me to say is "Have a good week!"
The English Tree Team