A Journey In Art, starting soon
The English Tree & Avvicinarte
present
A Journey In Art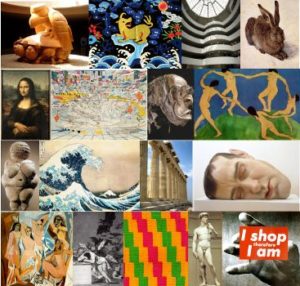 A practical History of Art Course in English with Valeria Arcangeli
COME AND LEARN HOW TO REPRODUCE THE TECHNIQUES OF ANCIENT ARTISTS WHILE YOU ARE PRACTISING YOUR ENGLISH
CHILDREN 7-13 YEARS OLD
The course will provide a basic knowledge of different historical epochs in four workshops focusing on the STONE AGES, MIDDLE AGES, RENAISSANCE AND MODERN ERA. There will be six sessions (1,5 hours each) in every workshop where we will learn about and recreate the ancient and artistic techniques through the analysis of images and illustrations of the main artists from each period.
From the cave art of the Stone Ages to the drip painting of Jackson Pollock… this will be an imaginative journey!
The students will have the chance to create a personal portfolio of works which will be shown to family and friends in a final exhibition.
 DETAILS
6 sessions of 1,5 hours for each historical period
bi-monthly on Saturdays at 11:00 to 12:30
Cost for each workshop (a total of 9 hours): Euro 100,00 (all materials included)
Minimum of 5, maximum of 10 students
At The English Tree, Le Terrazze, Casalpalocco
WHO'S THE TEACHER?
Valeria Arcangeli is an Art teacher who graduated with distinction in Fine Arts restoration at the Italian Institute of Fine Arts and with distinction in History of Art.
She currently holds creative and artistic workshops at local English and Italian  schools, and conducts guided tours in Rome for foreigners and tours of art exhibitions for students.
She created "Avvicinarte.bambini", to stimulate the minds and curiosity of children. The main aim of this project is to raise awareness of the importance of our artistic heritage. Children learn how to love art, how to appreciate it and how to respect it.
COURSE DESCRIPTION
STONE AGES – April / June 2018
Let's dive deep into our origins! How and where did our ancestors live? We look at "Art" in all of its form.
Cave art
MIDDLE AGES – October / December 2018
The Middle Ages, better known as the Dark Age… considered a transition age.
Its artistic production is simply amazing. Examples include the masterpieces of the artists in Florence and in Rome. Let's remember the mosaics in Trastevere.
The Mosaic
THE RENAISSANCE – January / March 2019
Centuries of change, not only in art, but also in philosophical, literary,
 scientific fields. A period when "human beings will be born again", where "man" is at the center of everything, where  artists  like  Michelangelo,  Leonardo,  Raffaello,  become  famous  in  the world.
Fresco technique
THE MODERN ERA – April / June 2019
A basic approach to what seems peculiar and strange: abstract art. Art that people look at and say, "I could have done that!" But we're not all Van
Gogh, Picasso, Matisse, or Pollock.
Pollock's moving painting